Increased chance of lung cancer
Elevated risk of bladder cancer
Increased coughing
labored breathing
chest tightness
chronic bronchitis
reduced pulmonary function and wheezing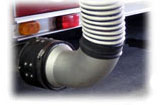 "No system is better than MagneGrip for ridding your firehouse of dangerously unhealthy diesel exhaust fumes. If anyone tells you differently, they're not giving you all the facts. No other system is as easy to use or more dependable than MagneGrip, and I will personally guarantee your satisfaction, 100-percent."

-- MagneGrip President, Ed Rossman

How can we show such confidence in the MagneGrip Diesel Venting System?
It is lightweight and simple to operate
Requires no air or electrical support
Releases automatically as apparatus exits
Has ambient air intake for cooler operation
Causes no damage to the vehicle engine

The revolutionary technology of the MagneGrip System means fully automatic and trouble-free operation. When the engine starts, an auto-start sensor switches on the exhaust fan, which runs for 3 minutes and then automatically shuts off (manual over-ride allows for longer runs).

During emergency exits, the nozzle automatically disconnects at the same point every time. The nozzle disconnects easily and the cable gently retracts the hose and nozzle.

Less equipment is required for operating a MagneGrip system, unlike other systems that need compressors or electrical system support. There are no air lines or electrical wires to get in the way, no gauges or controls to worry about, and no attachments to the side of your apparatus.

Contact us today to find out more information or schedule an on-site evaluation.



Texas-style customer service
Experienced installers
Complete end-to-end solutions




Simple operation and maintenance
Economical compared to competing systems
More reliable equipment
Unlike competing products, Magnegrip causes no damage to vehicles