Increased chance of lung cancer
Elevated risk of bladder cancer
Increased coughing
labored breathing
chest tightness
chronic bronchitis
reduced pulmonary function and wheezing

Magnegrip Vertical Stack Rail (VSR) Vehicle Exhaust Removal System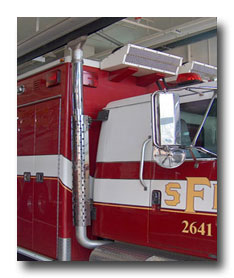 MagneGrip offers a Vertical Stack Rail System for vehicles that have vertical stack exhausts. No manual connection is required. As the apparatus enters the firehouse, the stack catcher adjusts horizontally to align the suction rail with the vertical stack exhaust.

When the ignition is engaged to start the apparatus, an electronic signal starts the exhaust fan. Upon returning to the station, the ignition-sensor starts the fan automatically and, as the apparatus enters the bay, all exhaust emissions are drawn through the suction rail and vented outside the building.

Contact us today to find out more information or schedule an on-site evaluation.



Texas-style customer service
Experienced installers
Complete end-to-end solutions




Simple operation and maintenance
Economical compared to competing systems
More reliable equipment
Unlike competing products, Magnegrip causes no damage to vehicles