Increased chance of lung cancer
Elevated risk of bladder cancer
Increased coughing
labored breathing
chest tightness
chronic bronchitis
reduced pulmonary function and wheezing

Magnegrip Slide Balancer Track (SBT) Vehicle Exhaust Removal System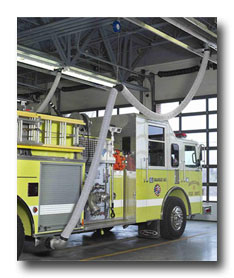 The MagneGrip Sliding Balancer Track (SBT) System can be installed in each bay for one vehicle or for two vehicles parked in tandem. It provides door-to-door exhaust capture in firehouses with drive-thru bays. It connects to emergency or nonemergency vehicles.

The balancer controls the cable that holds the hose in position. It is connected to a dual-glide trolley that moves inside the overhead track.

When the alarm sounds and the vehicle moves forward, the trolley glides effortlessly inside the track until it reaches a rubber end-stop. At that point, the hose extends to the threshold of the door and the nozzle automatically disconnects as the vehicle exits.

Contact us today to find out more information or schedule an on-site evaluation.



Texas-style customer service
Experienced installers
Complete end-to-end solutions




Simple operation and maintenance
Economical compared to competing systems
More reliable equipment
Unlike competing products, Magnegrip causes no damage to vehicles