Increased chance of lung cancer
Elevated risk of bladder cancer
Increased coughing
labored breathing
chest tightness
chronic bronchitis
reduced pulmonary function and wheezing

Magnegrip Straight Suction Rail (SSR) Vehicle Exhaust Removal System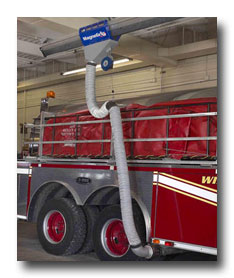 MagneGrip Straight Suction Rail (SSR) Systems are designed to fit in firehouses with little space to spare. The system accommodates emergency response vehicles parked in tandem (up to four vehicles). This system uses minimum hose lengths and the MagneGrip nozzle.

The aluminum suction rail serves as part of the exhaust duct system. A rail-trolley mounts on the suction rail with external wheels and travels with the movement of the vehicle. The hose is connected to a funnel-shaped inlet at the bottom of the trolley and flexible rubber "lips" seal around the inlet.

When the engine is started, an auto-start sensor switches on the exhaust fan, drawing the exhaust emissions into the rail. As the apparatus exits, the trolley glides along the rail. The MagneGrip nozzle automatically disconnects as the vehicle passes through the doorway.

Contact us today to find out more information or schedule an on-site evaluation.



Texas-style customer service
Experienced installers
Complete end-to-end solutions




Simple operation and maintenance
Economical compared to competing systems
More reliable equipment
Unlike competing products, Magnegrip causes no damage to vehicles